Adam Dulye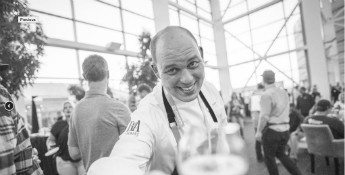 Executive Chef
At the Brewers Association, Dulye leads the culinary side of events including SAVOR: An American Craft Beer and Food Experience, Paired at the Great American Beer Festival, and the World Beer Cup Dinners. Dulye also works with the BA's Export Development Program. In this role Dulye works to educate media, trade and consumers on the quality and diversity of American craft beer and cuisine. Dulye has partnered with chefs from around the globe including London, Paris, Stockholm, Shanghai, and Tokyo to create multi course menus built on local cuisine and community that showcase the current trends and pairings happening in the United States.
In July 2012, Dulye took a new approach to beer and food with the opening of The Abbot's Cellar. Abbot's Cellar became a fine dining destination, multiple time SF Chronicle Top 100 restaurant and James Beard Award Semi-Finalist. Abbot's Cellar dedicated menus to food and beverage pairing with a focus on American cuisine and craft beer. Acting as a driving force for the entire staff, Dulye says, "We took the conversation further when interacting with diners to guide them towards the ideal beer and food pairing." Dulye executed a daily changing à la carte menu as well as three and five-course tasting menus.
Prior to opening Abbots Cellar, the Culinary Institute of America graduate helmed several kitchens in craft-beer centric locations such as Boulder and Vail, CO and Portland, OR.
In 2018, Dulye released his first cookbook titled The Beer Pantry (Dovetail Press, NYC). The Beer Pantry focuses on cooking for beer not with beer. The Beer Pantry features over 70 recipes, each teaching the reader about what complements beer and how to think like a chef when pairing beer with culinary ingredients.
Select the day that you prefer
Find the event interested
15 FEBRUARY | 13:00 - 14:00
Food Attraction Lab - Hall A4
16 FEBRUARY | 12:00 - 13:00
Food Attraction Lab - Hall A4
Event speakers