Cloakroom Cocktail Lab
Cloakroom is one of the English words for wardrobe. In fact, before the bar was born, in the same place where now people can drink high-level cocktails in the centre of Treviso, there was a warehouse of a clothing shop.
Cloakroom is more than a simple cocktail bar. It a philosophy, a sophisticated mixing style.
The team is composed of young bartenders who put passion and emotion in all their creations, supported by the Boss, Samuele Ambrosi, who is also the founder of Cloakroom as well as an internationally renowned mixologist.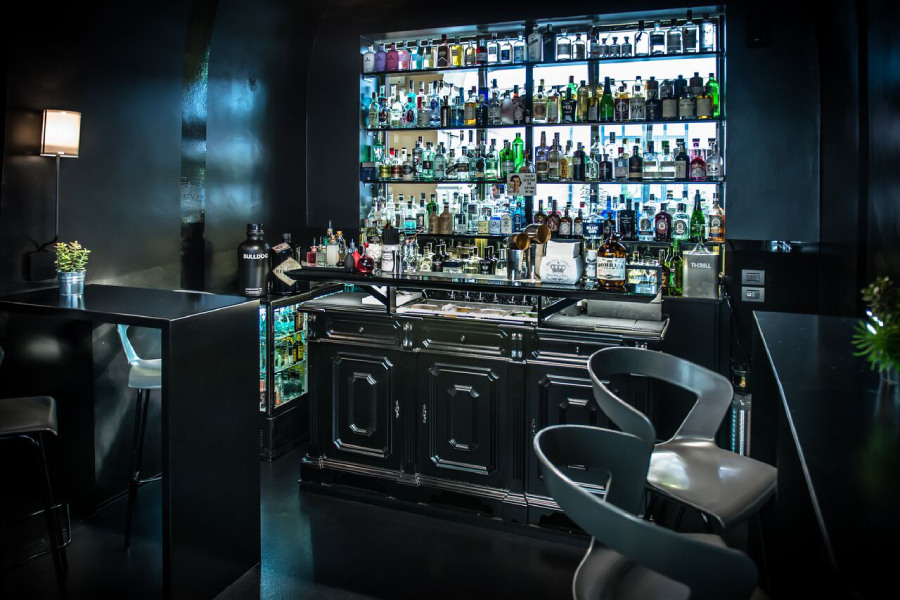 Behind every single cocktail there is a lot of study and testing. Nothing is left to chance, from raw materials, to the choice of the perfect glass, the regularly homemade mix and also the type of ice to use.
Cloackroom is not only famous for its signature and refined cocktails, but also for its Gineria located in the second room facing the town square. Here you can find more than 400 labels of different types of gin. And the cloakroomers know this well. They let themselves be advised new tasting and new combinations of tonic water. 'Cause every gin has its special tonic match.
SAMUELE AMBROSI
Born in 1978, gentleman of Verona but citizen of Treviso.
Raised in the F&B, his parents managed a restaurant, moved to the Venetian mountains when just 15 years old to start his experience outside the domestic habitat to finally reach some years later the luxury Badrutt's Palace in St. Moritz.
In 2003 gained the title of Best Student and Best Team at the IBA Europe Training Centre Karlovy Vary in Czech Republic.
In 2004 won the prestigious Angelo Zola Award, that is dedicated to young Italian bartenders who claim an excellence training in mixology. The following year in 2005 won one of the most difficult competition worldwide; The Elite Bartender Course JWC in Singapore, bringing home the Eagle Award.
In 2008 reached the first place at Trophées Internationaux des Calvados in Normandy.
Official AIBES Trainer, he took part to draft the last IBA cocktail list.
He is also a Consultant for the most famous Bar Industry Brand, such as Campari, Nardini, Bevande Futuriste, Lazzaroni, Angostura, Acquavite Spa, Enoglam, Upperhand Gin, Rossi & Rossi and Sabatini.
In 2013 established Cloakroom Cocktail Lab. In 2022 he opened Cloakstudios, a multipurpose space which offers several services like Educational, Masterclass, consultancy, bar catering, team building or drink strategy. In 2023 finally opened BOSS HOGG, one of the few whisky lounge in Italy. All of the three are situated in Treviso, North East of Italy.
He wrote the preface of "La Fotografia e l'arte del Gin Tonic" by Edoardo Agresti and of "The Curios Bartender's Gin Palace" by Tristan Stephenson.
Co-author of "Il mondo delle grappe" by Roberto Castagner.
In 2020 published Anthologin, fruit of his labour and of his endless love for gin.
NICOLA TONIOLO
Nicola was born in 1993 in Treviso.
He came by chance to the world of F&B, just because he worked as a waiter during the weekend when he was still attending the High school.
Once graduated, he decided to open a Pub with his schoolmates since he was pretty attracted by the world of beer. In that period, he discovered the mixology and step by step, he went closer to the world of cocktails. Left his Pub and sent a Resume to Cloakroom Cocktail Club.
He started as bar back in July, 2016. In 2018 he flew to London to start working at Sketch, where after six months after, he became the Supervisor.
In 2020, due to the Pandemic, he moved back to Italy and knocked Cloakroom's door once again.
In the same year he attended to the Head to Head Competition gaining the second place and got on the podium of Angelo Zola Award, twice.
Today he is the Barmanager of Cloakroom, known by the folks as Mini Boss.